Pressure Pour Systems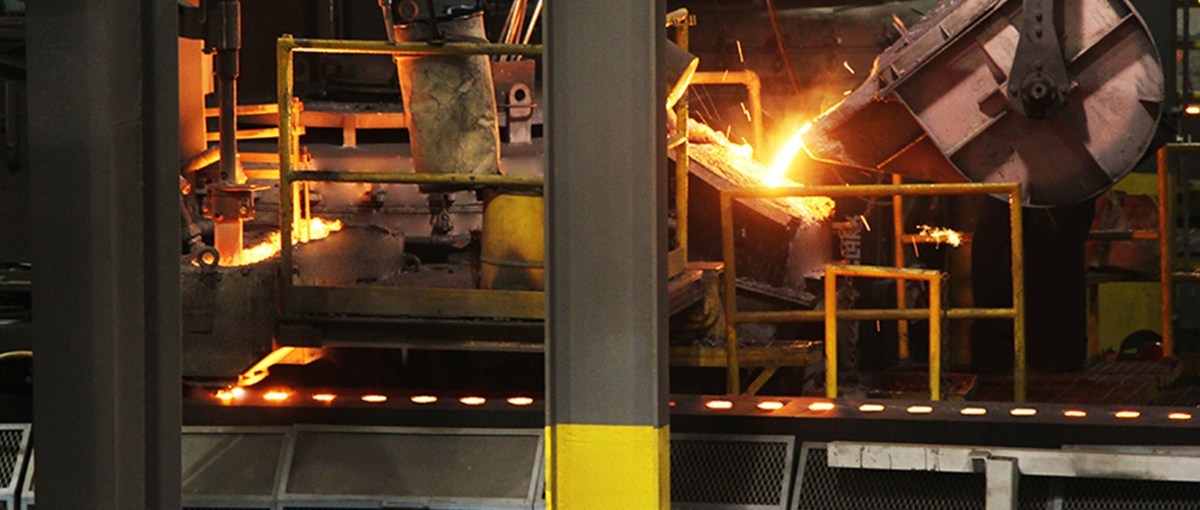 Our inductively heated Pressure Pour Systems are typically used for high production shops where minimal alloy changes are made.
Pressure Pour Automated Pouring Systems are ideal for applications that require volume flexibility at the mold line by holding molten metal at an exact temperature while delivering precise pouring control. They are capable of handling ferrous and copper-based metals, and combine the precision of metal level regulation and stopper rod metal dispensing. Having metal storage at the mold line with accurate temperature control of a channel or coreless induction power supply further enhances this tool's capability. The closed-loop pressure control in the holding vessel is used to maintain a constant metal level in the launder above the pouring nozzle and, in special cases, can be used to regulate the pouring directly.
Precise metal flow into the mold is accomplished by accurately raising and lowering the servo-driven stopper rod. This is accomplished by a number of methods best suited to the individual application. Most systems are coupled with our advanced VISIPOUR® P³® (Predictive Pour Performance) Control Technology which suits a wider variety of pouring possibilities. Alignment of the pouring nozzle over the mold location is accomplished through hydraulically-driven furnace motion along both x and y axes. Automation of this feature to provide more rapid pouring is accomplished through VISIPOUR® P³® Control Technology. In cases where alloy changes or re-treatment of ductile iron is needed, the furnace is hydraulically tilted to facilitate these requirements.
Control Options
VISIPOUR® P³® (Predictive Pour Performance) Control Technology is our breakthrough advancement in Automated Pouring and provides perfect pour precision. This control system is a key component to the most successful Automated Pouring Systems as it suits a wider variety of pouring possibilities. In addition to VISIPOUR® P³® Control Technology, we offer a variety of automated control platforms to best fit your particular application such as Teach, Teach and Vision, Teach and Weight, Time and Rate, Manual, Direct Pressure Pour, and Positioning Options. A simplified version of the pressurized stopper unit can include an automated pneumatic stopper rod system or operator actuated joystick control.
Tech Specs
| Capacities | Standard Features | Optional Features | Factory Tested |
| --- | --- | --- | --- |
| 1.8 to 25 Metric Tons [2 to 28 Short Tons] | Vessel Design | Stopper-Rod Pouring Control Systems | Critical Components |
| Contact Inductotherm for Custom Solutions | Inert Furnace Atmosphere | Pressure Pouring Control Systems | |
| | Metal Storage | X-Y Axes Motion | |
| | Fine Furnace Pressure Control Systems | | |